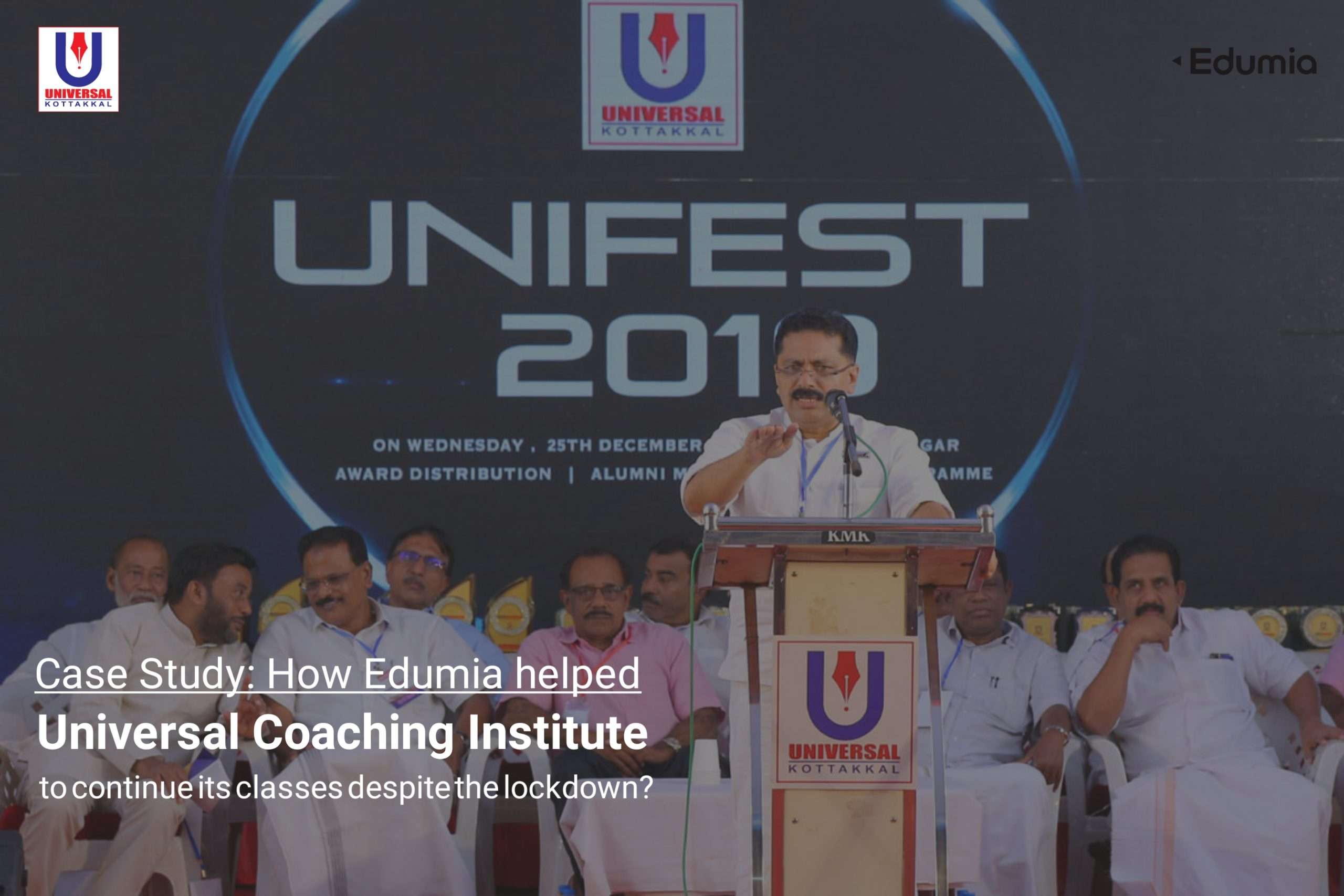 Universal Entrance Coaching Institute is situated in Kottakkal city, Malappuram. It provides coaching to the aspirants of various entrance examinations. Just like other educational institutes, Universal witnessed a setback due to pandemic. Since all organizations and institutions were shut down to contain the outbreak of the pandemic, Universal had to close its premises. This paved several challenges for the institute. 
Challenges
Here are a few challenges that Universal Coaching Institute faced owing to Covid-19:
Universal Institute was shut down. All crash courses were halted and new classes could not be initiated. This impacted the learning curve of students.
The institute didn't have any idea of 'how to conduct classes' amidst lockdown.
They resorted to Whatsapp for online classes and exams, but it was again a challenge to send questions and study material through it while maintaining the confidentiality of materials. Furthermore, it wasn't a professional approach to conduct the exam.
The institute was lacking in a robust framework to conduct mock tests/exams in lockdown and to evaluate them.
They could not continue with their admission procedure for new classes.
With these problems, they came to Edumia for suitable guidance and support. 
Solutions offer by Edumia
Edumia helped Universal Coaching Institute in setting up a robust e-learning and education management system to continue with its operations amidst lockdown. An app under the name of the Universal Institute was created. The students can log in with their unique login credentials in the app and access the online learning materials. The teachers can create videos, notes, guides, e-books, and other study materials and upload them on the platform. Furthermore, the platform even has the ability to organize online exams. The exam can be conducted live on the platform and the students get disqualified if they move out from the window/browser. This ability is initially being tested on 100 random students, and later implemented completely after the testing phase.
Edumia also ensured to keep the learning material and resources of the institute confidential and secured. For that, the institute's application was hosted in secured and highly dedicated servers. All the links of videos and study materials are also kept hidden. The study resources can neither be downloaded nor shared with others. Furthermore, even the act of clicking screenshots is blocked in order to ensure the utmost confidentiality of data. 
Impacts of Edumia's institute management system and learning app
Edumia facilitated Universal Institute to migrate to an online platform. Well-known politician of Kerala, Dr. K. T. Jaleel (Minister for Higher Education) inaugurated Universal's online transformation project. Subsequently, the Universal Institute app went live on PlayStore. While other institutes are leveraging zoom classes and Google meet, Universal has gone one step forward and created its e-learning and institute management system. This transformation brought several benefits for the institute:
Universal Institute is conducting all its classes online. So, neither the students nor the institute is at loss.
The number of admissions to the institute has increased substantially even though the institute's premises are closed.
Existing 3000+ students of the institute are able to study from their homes and at their pace.
The institute was initially serving only aspirants of Kottakkal. However, with the app, it has expanded its classes to all aspirants across India.
Due to early switch to online classes, there wasn't much gap in the operations of the institute during the pandemic.
The online classes are not just suitable till the time lockdown is removed. But, they can continue even with regular classes once things become normal.
Till now, Universal Institute has successfully conducted several mock tests. The exams are conducted in a professional setup.
The crash course for 10+2 students has already started from 2nd June itself.
Sample Video of Universal Online Class: